#TeamAltruist is powered by kindness, brilliance, and grit. Get to know the folks who are driving Altruist's mission forward. Meet Ashlyn McIntosh.


Ashlyn, a rebellious, young, queer, tattooed woman, stands out in the traditional world of finance—but it was in this world, where someone took a chance on her as a high school dropout and gave her a job where she rapidly climbed the ranks. In her early twenties, she ran operations for several advisory firms before identifying her true calling: recruiting. She loves how, through her work, she's able to help people find their place and activate their talents and passions.
I love being able to coach people through who they really want to be and finding their strengths, matching them to roles that don't necessarily fit the traditional mold."
All her life, she's felt neither here nor there—never neatly fitting into a single category. Growing up in Los Angeles and moving between a world of incredible privilege and the lower-income community she grew up in, her experiences and intuition allow her to easily adapt to all types of people. It's this grounding that makes her so great at her job; she's able to see people as who they are, not as an archetype or a set of checkboxes.
My favorite part of my job is how I can affirm people's experiences and say—you do fit here, you do belong. People underestimate themselves all the time because they're not the so-called "perfect fit" but they have so much they can bring—my job helps people see the potential and power in themselves and in others."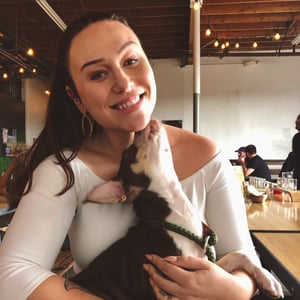 It's not always easy because the structures and systems in place demonstrate how often people are taken for granted. The hardest part of her job is seeing how so many people are mistreated and underpaid in their roles. She comes across candidates every day who make so much less than what they're worth and sees it as her purpose in life to create hope and pathways for people to find their own.
That's why when she's not magically connecting the dots, she spends her time working with Covenant House, working with unhoused youth to get them the support they need to come into their own.
It's so easy to feel hopeless about your career, about your life… I've been there. It's the worst feeling in the world and I want to alleviate that in others. Whatever I can do to help that, I will."