#TeamAltruist is powered by kindness, brilliance, and grit. Get to know the folks who are driving Altruist's mission forward. Meet Torie Yamamoto.


Compliance wasn't something Torie ever considered but fell into accidentally. Through a series of connections, she landed in a role that she initially thought would be boring but ended up genuinely loving because it taps into her love of writing and her ability to teach others.
Finance is a heavily regulated industry, and it can be confusing — I see myself as a guide. It's rewarding to work through the confusion and help everyone be the best versions of themselves. At the end of the day, compliance is about making sure everyone follows the rules put in place to protect the end consumer."
It's a role that keeps her on her toes—in a regularly shifting regulatory landscape; there's always more to learn.
When I started out, social media wasn't as popular. Regulators were still figuring out the rules for it. And now it's critical to the way advisors connect with end investors. I get to work collaboratively with our marketing teams to ensure that we're in alignment and get to flex my creative muscles."
Working with Torie is truly collaborative—she jumps in and works with the team to make sure everyone feels great about the content we're putting out in the world.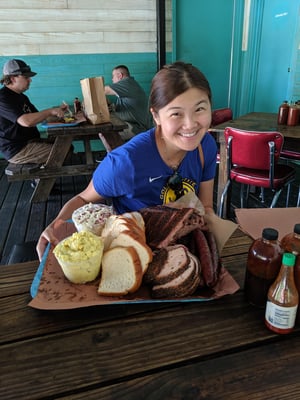 Torie lives and works with a fearless desire to uplift and enable those around her and create paths forward to bring new voices in.
In a previous role, I remember looking at a framed photo collection on a conference room wall and realizing not a single advisor pictured looked like me. It felt like such a symbol of where we were as an industry.

I know my work, and the work of my colleagues, is changing that, and that gets me really excited. As an Asian-American woman, I want to live in and create an environment where different cultural nuances are not only accepted but celebrated, and people can bring their full selves forward."
Coming out of the pandemic, Torie can't wait to get back into the world. She loves traveling and making destinations out of famous restaurants.