#TeamAltruist is powered by kindness, brilliance, and grit. Get to know the folks who are driving Altruist's mission forward. Meet Zoe Arrieta.


For Zoe, design happens on the run. Literally.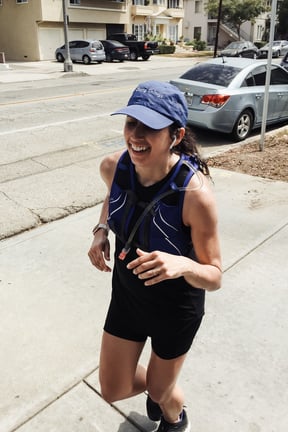 Of course, she spends time sketching, concepting, and designing on the computer, but her best ideas come to her during distance runs. During those long miles, her mind can process and wander, solving the problems in front of her. And that's what design is for Zoe: an elegant combination of problem solving and storytelling that can shape a person's experience or opinion.
Design is something that has consumed Zoe in a big way:
"I love what design can do beyond the obvious. It's not just about the way things look, but the voice behind every intentional decision—the synthesizing of details, ideas, and information. It's the personality, motivation, the look, the feel, persona… I love getting to know, explore, and manifest the intentions of our brand."
Since joining the team last winter, she's been reveling in getting to know all aspects of the Altruist brand and working hyper-collaboratively with the design team.
"There's this implicit understanding that no one is doing their best work all on their own—people want to work together, we want others to contribute to our projects—that's refreshing and new for me. I'm consistently creating work I'm really proud of—not just cranking out dozens and dozens of assets every week. Each element or experience we create is given critical thought, ample time, and focused energy. I feel really lucky to be a part of this design-first organization."
Part of what Zoe attributes to the clarity of Altruist's design philosophy is a quote she remembers from years working at Disney:


When your values are clear to you, making decisions becomes easier."

— Roy E. Disney
Outside of running and designing, you can find Zoe climbing mountains, cooking and baking deliberately complicated recipes, road cycling throughout Orange County, or capturing her epiphanies via voice notes (she wrote her wedding vows this way!)