Originated by Carter G. Woodson, Black History Month has been officially recognized by the U.S. government since 1976.
Several Black Wall Streets, or neighborhoods that thrived economically based on Black wealth, have existed throughout U.S. history.
Racial wealth gaps and disparities continue to persist today, with African-Americans holding only 2.6% of the nation's wealth.
Celebrate Black History Month by supporting Black businesses, financial experts, organizations, and more.
For many Americans, learning about Black History Month meant making posters of abolitionist and civil rights leaders in their elementary and middle school classrooms. Schools often offered lessons on luminaries like Rev. Martin Luther King Jr., Harriet Tubman, and Jackie Robinson, who all admirably used their platforms to combat racial injustice.

While these pioneers helped Black Americans fight for the right to vote in elections, obtain a proper education, and use public spaces, some of them also pushed for economic equality and cooperative economics.
"As long as Negroes are hemmed into racial blocks by prejudice and pressure, it will be necessary for them to band together for economic betterment," said educator Mary McLeod Bethune in her last will and testament. "Negro banks, insurance companies and other businesses are examples of successful, racial economic enterprises."
She wasn't the only Black activist to advocate for financial independence. Historian and author Carter G. Woodson wrote in his 1933 book, The Mis-Education of the Negro, that Black Americans "must begin immediately to pool their earnings and organize industries to participate in supplying social and economic demands."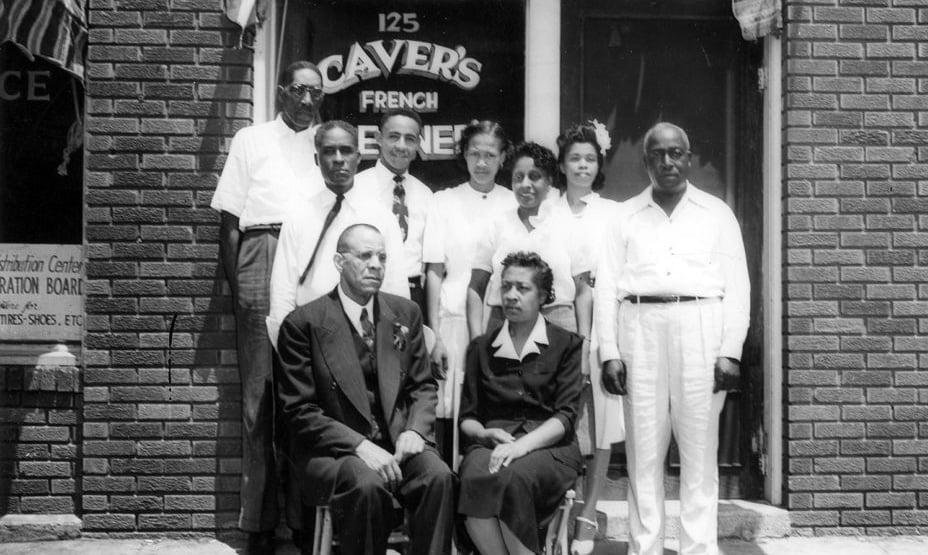 This kind of economic advocacy may not have made it to Black History Month school curricula, but the importance of community wealth, especially in predominantly Black neighborhoods, has been apparent long before segregation and long after.
The father of Black history
Before Carter Woodson became a world-renowned figure, he was a sharecropper and miner. He grew up poor, helping his family earn money by working in coal mines and on farms. Despite his demanding job, he prioritized his education by teaching himself common school subjects.
When he was finally able to pursue his studies full-time at age 20, he went on to earn bachelor's and master's degrees from the University of Chicago. He later attended Harvard University, becoming just the second African-American to receive a Ph.D. from the prestigious institution. Sociologist and activist W.E.B. Du Bois was the first.
Woodson dedicated his career to academia, teaching at classrooms across the country. As he assessed curriculums, he realized that African-American history was "overlooked, ignored, and even suppressed by the writers of history textbooks and the teachers who use them."
The lack of representation led him to propose a few ideas. One of the first was the Association for the Study of Negro Life and History, now the Association for the Study of African American Life and History (ASALH). Founded in 1915, the organization highlights the contributions of African Americans.
Known as the "Father of Black history," Woodson also founded publications, including The Journal of Negro History and the Negro History Bulletin, as educational resources.
However, his most notable proposal came in 1926 with Negro History Week, a seven-day celebration the second week in February to acknowledge the accomplishments of Black people. February was particularly significant to Woodson because it was the birth month of abolitionist Frederick Douglass and President Abraham Lincoln.
Although Woodson died in 1950 at age 74, schools and organizations continued to observe the occasion for decades by hosting parades, breakfasts, lectures, banquets, and exhibits.
By 1970, students at Kent State University extended the holiday to a month at their own institution. In 1976, America's bicentennial year, the entire country followed their lead after President Gerald Ford decreed Black History Month a national observance.
It's been nearly 100 years since the holiday was established, and the ASALH continues to preserve Black history and Carter's legacy with events, resources, and annual themes for Black History Month.
Black Wall Streets
After emancipation, several neighborhoods in cities across the United States served Black Americans seeking banking, medical, food, and entertainment. From offering loans to a place to go grocery shopping, these Black-owned operations served Black Americans when white-owned ones would not.
The country's first chartered Black-owned bank, ​​The Savings Bank of the Grand Fountain United Order of True Reformers, opened in the Jackson Ward neighborhood of Richmond, Virginia in 1889. A thriving hub for Black businesses, the area also contained theaters, medical practices, and a variety of stores and offices.
The success of the community became known as "Black Wall Street" and the birthplace of Black capitalism by 1903.
Eventually, an all-white city council's plans to revitalize the city unfairly targeted Jackson Ward. The neighborhood was dismantled by the 1950s, resulting from the federal housing and interstates that were built in the middle of the neighborhood.
The Black Wall Street of Tulsa, Oklahoma suffered a much more tragic fate.
Along Greenwood Avenue in the early 1900s, it was easy to spot a salon, pharmacy, shoe shop, or restaurant run and operated by a Black entrepreneur. For years, more than 70 establishments filled the streets.
It was all abruptly destroyed when a white clan mobbed the city in a violent rage, using their guns and bombs to destroy everything in sight. Over two days, as many as 300 people were murdered, 35 blocks of businesses were burned to the ground, and thousands were left homeless. No one has ever been prosecuted for the crimes.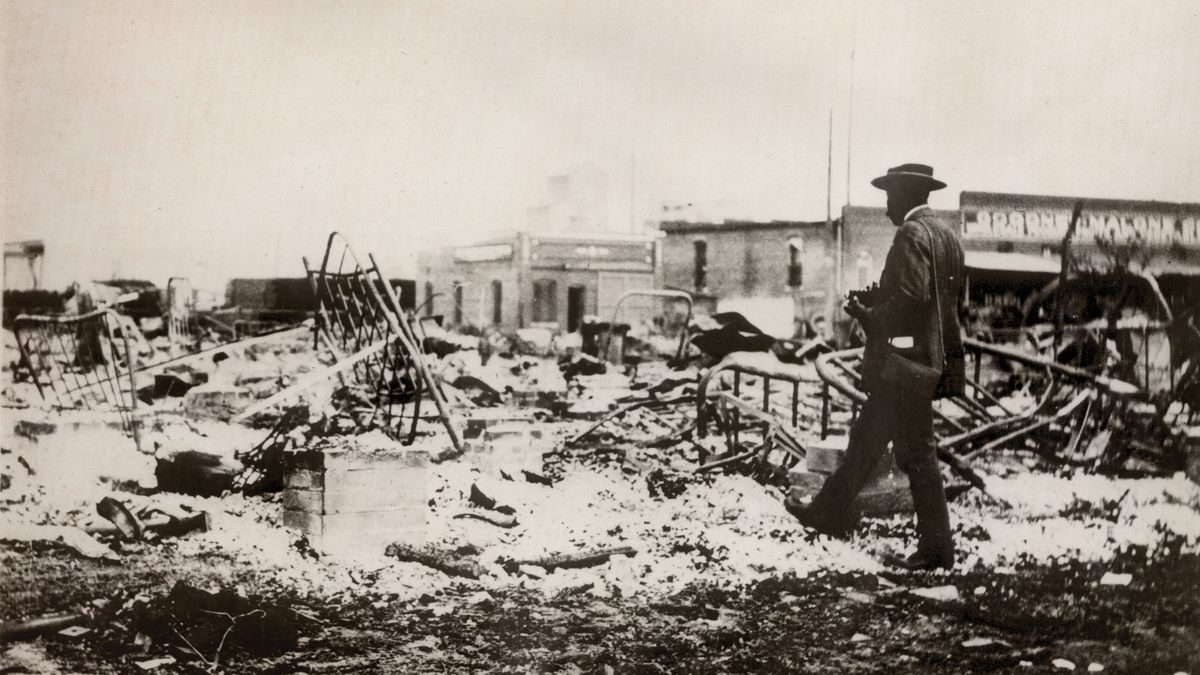 Tulsa and Richmond had just two of several Black Wall Streets in history.
The Hayti community of Durham, North Carolina was the first Black community to become fully self-sufficient, and educator Booker T. Washington said Boley, Oklahoma was "the finest Black town in the world." Atlanta's Auburn Avenue used to be called "the richest Negro street in the country," while Birmingham, Alabama was once home to the Black Business District.
Although these communities existed and ultimately diminished due to systemic racism during the 20th century, the need for Black institutions still persists.
What is the current state of Black wealth?
African Americans hold only 2.6% of the nation's wealth despite making up 13% of the population, according to the most recent data from the Survey of Consumer Finances. Furthermore, the average Black household has a net worth of $800,000 lower than the average white household.
This data is a clear indicator that racial wealth gaps and disparities still exist even decades after the passage of the Civil Rights Act of 1964, which bans discrimination based on race, color, religion, sex, and national origin.
Redlining, unfair wages, and lack of affordable housing are all economic issues that continue to disproportionately affect the Black community.
Fortunately, organizations are recognizing the disparity, launching initiatives to promote financial equity. Last summer, the Biden-Harris administration announced new actions to build Black wealth by expanding access to homeownership and small business ownership. And Netflix recently pledged to put 2% of its cash, around $100 million, in Black-led banks.
New Black-owned bank experiences are emerging, too, like Greenwood, a financial institution recently founded by civil rights icon Andrew Young, rapper Killer Mike, and media mogul Ryan Glover.
How to get involved
While large corporations and top elected officials are making efforts to address the stain of economic racism, there are also small but significant ways to advocate for financial literacy throughout Black History Month and beyond.
There are more than 124,000 Black-owned businesses in the country to support, according to a 2021 U.S. Census Bureau report. Need help finding them? Check out Black Business Green Book, Shop Black Owned, WeBuyBlack, and even one from Google.
The financial industry is a white male–dominated field, but there are many Black professionals who are committed to providing free financial advice through podcasts, books, blogs, and social media. From Chris Browning of Popcorn Finance and Tiffany Aliche of the Budgetnista to Talaat and Tai McNeely of His and Her Money, these experts share personal stories to help folks navigate 401ks, loans, investing, and more.
Additionally, there are advocacy programs and nonprofits devoted to financial education. Junior Wallstreeter, founded by a father and son duo, and Developing Responsible Economically Advanced Model-Citizens (DREAM) both provide financial literacy products to individuals and families from historically disadvantaged backgrounds.
The Association of African American Financial Advisors addresses the needs of financial professionals, and ​​The Foundation for Financial Planning and the Financial Planning Association both offer pro bono services.
There are also some programs dedicated to Black women, like Black Fem, Savvy Ladies, and the Women's Institute of Financial Education (WIFE).
Beyond February
Black History Month is an opportunity to reflect on our nation's progress and continued challenges. The celebration isn't limited to a laundry list of historical figures and events. Rather, it is a lifelong effort to research, recognize, and preserve information about Black history and Black life, and financial equity for all should always be a part of the mission.
"For me," Woodson said, "education means to inspire people to live more abundantly, to learn to begin with life as they find it and make it better."